Don Ignacio pays tribute to:
John Cleese
(October 27, 1939- )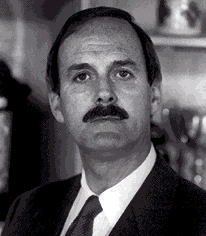 The famous Britian comedian making his first recognizable television appearance in the ultra-famous Monty Python's Flying Circus in 1969 along with Graham Chapman, Eric Idle, Terry Jones, Michael Palin and Terry Gilliam. The show ran until 1974 gaining popularity for this actor in both the United Kingdom and the United States. John Cleese's Monty Python fame resulted in him starring in three movies, Monty Python and the Holy Grail (1974), The Life of Brian (1979) and Monty Python's The Meaning of Life (1983). Meanwhile Cleese and, then, his wife, Connie Booth derived the 12 episode television series, Fawlty Towers, which almost gained as much popularity as Monty Python's Flying Circus did. In 1988, John Cleese wrote produced and starred in A Fish Called Wanda (1988), where he gained an Academy Award Nomination for his writing. Cleese's starring roles are few and far between, but whenever he appears, his masterful comic ability lightens up the screen. Cleese's other starring roles includes, The Secret Policeman's Ball (1980), The Great Muppet Caper (1981),Privates on Parade (1982), Silverado (1985), Clockwise (1986), Splitting Heirs (1993), Rudyard Kipling's The Jungle Book (1994), Fierce Creatures (1996) and The Out-of-Towners (1999). John Cleese also appeared in The World is Not Enough (1999) as 'R' a bumbling scientist and is expected to appear in future Bond films. Also, Cleese will apparently appear in all the Harry Potter films as the Nearly Headless Nick.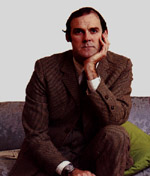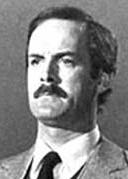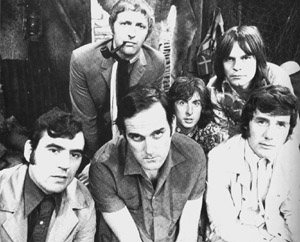 John Cleese and the entire Monty Python troupe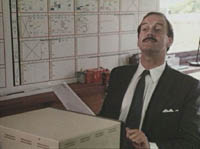 Site filmography:
Monty Python and the Holy Grail (1974)
Fawlty Towers television series
The World is Not Enough (1999)
Harry Potter and the Sorcerer's Stone (2001)
John Cleese and Jamie Lee Curtis in A Fish Called Wanda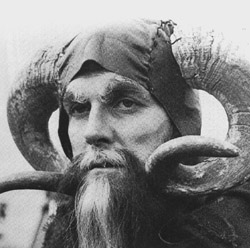 John Cleese as Tim the Enchanter in Monty Python and the Holy Grail
___________________________________________________
Biography by Michael Lawrence
All reviews on this site are Copyright (C) 2000 - 2001 by Michael C. Lawrence. All Rights Reserved.