Don Ignacio pays tribute to:
Dan Aykroyd
(July 1, 1952- )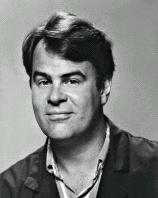 Dan Aykroyd was majoring in criminology and sociology when he dropped out to work for SCTV in Toronto. In 1975 Aykroyd was chosen to be part of the original cast of Saturday Night Live which became a tremendous success. Off of a skit done by himself on Saturday Night Live, Aykroyd starred in the highly popular The Blues Brothers (1980) which established him as a movie star. He was also in the highly successful comedies Trading Places (1983) and Ghostbusters (1984). He also starred in the Academy Award Winning Driving Miss Daisy (1989). He is one of those rare actors who excells in both comedies and dramas. He was in an abundant of films, most aren't very good, but he has the talent of making them substantially better than their scripts.
Films starring Dan Aykroyd on Don Ignacio's Movie Reviews:
Twilight Zone: the Movie (1983)
Indiana Jones and the Temple of Doom (1984)
___________________________________________________
Biography by Michael Lawrence
All reviews on this site are Copyright (C) 2000 - 2001 by Michael C. Lawrence. All Rights Reserved.