Rush Hour 2
In a hurry, like Chris Tucker's mouth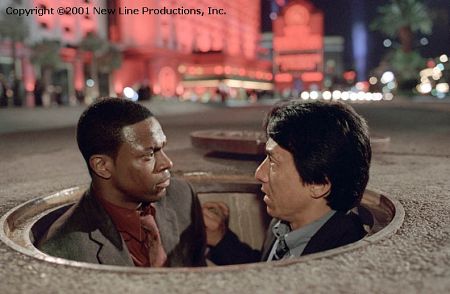 Jackie Chan and Chris Tucker star as Donatello and Michelangelo who have further mutated from giant turtles into an Asian and an African-American in the instant classic, Teenage Mutant Ninja Turtles Part IV.
Jackie Chan and Chris Tucker re-unite to try and repeat the success of Rush Hour. This time, Jackie and Chris are on vacation in Hong Kong. All Chris wants to do is something called "Mooshu," something which I was confused of its meaning at first, but I had since looked it up and found out that it has something to do with drinking goat milk out of a woman's shoe. However, Jackie Chan doesn't like goat milk, so his primary purpose in Hong Kong was to find and arrest a specific bad guy who is believed to have bombed the American embassy. This was Chris's purpose too, but Jackie hadn't told him until a bunch of hit men started running after them.
Now I would like to compare this sequel to its original. I loved Rush Hour! I loved the "Lethal Weapon" formula combined with eye-boggling Jackie Chan action. However, in this sequel, Chan's action gives way to Tucker's mouth. I am not saying that Jackie Chan uses Chris Tucker's jawbone as a fighting tool, but what I am saying is that CHRIS TUCKER NEEDS TO SHUT UP!! To a certain extent, Chris Tucker can be very funny with his motor-mouth personality, but gets too carried away. Plus, there wasn't nearly enough kung-fu action, so if there is going to be a Rush Hour 3, remember this equation, Hollywood:
(JACKIE CHAN ACTION * 5) + (CHRIS TUCKER MOUTH / 5) = PERFECT!
I still enjoyed this movie though. There were enough laughs and enough action both provided by Chan and Tucker to carry this film through to its conclusion. It could have been much better, but I still have to admit that despite its flaws, I enjoyed the entire thing.
That's all I have to say about that.
FINAL VERDICT: B
Overall, quite an entertaining martial/arts comedy, even though I would have much preferred more martial arts and less of that Tucker-style comedy, but it's still good! I certainly wouldn't recommend this movie to anyone who either disliked the original (because the original is superior to this) or to anyone who despises the likes of Eddie Murphy and/or Chris Rock (because Chris Tucker is more annoying than those two combined.) I still would like to see something done about Chris Tucker's mouth, though.
"Blah, Blah, Blah, Blah, Blah, Blah, Hubbadah boyah, bigoddyah, Blah!" as the great film actor Chris Tucker would say. The audience wishes he would shut up, but he continues anyway. "Huggayah! Blah, Blah, Blah! Tranaya guddayah!" Then Jackie Chan kicks Chris Tucker in the head. Tucker finally shuts up. The audience applauds. There is much rejoicing.
Movie reviewed by Michael Lawrence
____________________________________________________________________
Starring:
Jackie Chan (as Jackie Chan), Chris Tucker (as Pluto the Dog), John Lone (as the Lone Ranger), Zhang Ziyi (as Jackie Chan), Roselyn Sanchez (as Nolan Ryan), Harris Yulin (as Grover Cleavland), Alan King (as Captain Kangaroo), and Kenneth Tsang (as James Tiberius Kirk)
Directed by:
Brett RATner
____________________________________________________________________
2001 comedy
Rated PG-13.
____________________________________________________________________
Don Ignacio's score: B
All reviews on this site are Copyright (C) 2000 - 2001 by Michael C. Lawrence. All Rights Reserved.