Riding in Cars With Boys
How many boys are we talking about?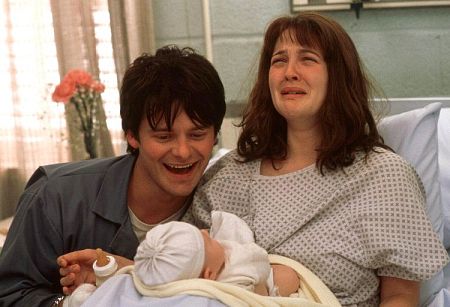 Barrymore cries at the thought of where the baby got 1/2 of it's genetics. (Come on, Steve Zahn ain't that bad!)
Penny Marshall directs this descent drama about a woman (Drew Barrymore) who has great dreams and ambitions only to have them ruined when she gets pregnant at fifteen. She ends up having to marry the complete loser father (Steve Zahn) which, if you see this movie, you'll know to be a pretty bad deal. Drew Barrymore has to battle teen pregnancy, how her father (James Woods) reacts to it, and how this all fits into her life ambition.
For a modern Hollywood movie, "Riding in Cars With Boys" it is better than average. Therefore, it is worth seeing! If you are expecting another great film from director Penny Marshall however, you will, unfortunately find this film to be well below par. Marshall is a very talented director. She directed such excellent films as "A League of Their Own," "Big," and "Awakenings." She also directed "The Preacher's Wife" (which I haven't seen.) The Marshall film that comes closest in matching "Riding in Cars With Boys" in quality would be "The Renaissance Man" released in 1996. Those two films, however, are nothing alike.
Like I have mentioned, "Riding in Cars With Boys" is still a good movie. It is touching and laced with a couple good laughs. The story is intriguing only to an extent, however. It can become, at a few times, quite tedious! I would have liked to see a bit more comedy in this movie opposed to so much sentimentality. Yes, I know part of its purpose was supposed to be a sentimental, encouraging tale about a less-than-ideal family, but, frankly, encouraging is something that this movie fails to be! Well, I suppose that it is somewhat encouraging, but don't come to expect an "It's a Wonderful Life."
It's not that the sentimentality and the encouraging plot are bad. Its overall effect seemed to serve the movie rather well. However, it could have been constructed much better and I would still have preferred more comedy.
The acting from the entire cast is great! Drew Barrymore, Steve Zahn, James Woods, Brittany Murphy (as Barrymore's best friend,) Lorraine Brasco (as Barrymore's mother,) and Adam Garcia (as Barrymore's grown up son) all turn out top-notched performances. Great job!
FINAL VERDICT: B
This movie is not great, but enjoyable enough to make a trip to the theater worthwhile. An excellent job by the cast! Director Penny Marshall does a good job too, but doesn't quite match her expectations.
Movie reviewed by Michael Lawrence
____________________________________________________________________
Starring:
Drew Barrymore, Steve Zahn, Brittany Murphy, Damien Garcia, Lorraine Bracco, James Woods, Sara Gilbert, Desmond Harrington, David Moscow, Maggie Gyllenhaal, Peter Facinelli, Marissa Ryan, Mika Boreem
Directed by:
Penny Marshall
____________________________________________________________________
2001 comedy/drama
Rated PG-13.
____________________________________________________________________
Don Ignacio's score: B
All reviews on this site are Copyright (C) 2000 - 2001 by Michael C. Lawrence. All Rights Reserved.