Monsters Inc
Grrrrr, I say. You're scared, I say.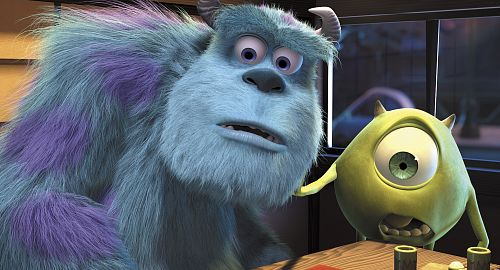 Three eyes are better than one
Woohoo! Pixar strikes again, except this time with a scare! Grrrrrrr...
First of all, there is a world of monsters out there and they require the screams of children to power their cities. So, a group of mean, lean, scaring-machines must creep out of little children's closets to scare them out of their wits, not because they like it necessarily, but because their entire monster society rests upon it! It takes only the top monsters to be able to do this with success because little children are---well---toxic, or so they say!
The story revolves around two monsters, an extremely fuzzy teddy bear like thing, named Sullivan (voiced by John Goodman) and a one-eyed green thing reminiscent of a germ, called Mike (voiced by Billy Crystal). They are a scaring team who just happen to be the best in the business, however, a jealous lizard named Randall (voiced by Steve Buscemi), tries devising ways at becoming better! Meanwhile, Mike and Sullivan become tangled into a terrible mess when Sullivan accidentally lets a little human girl escape into monster society. Since children are toxic, this creates much panic and hysteria! Beyond this point, I'm not going to reveal too much about the plot. (This is a good movie and I don't want to spoil it!)
The animators (who are responsible for such brilliance as "Toy Story," "Toy Story 2," and "A Bug's Life") again, return to the big screen with imminent success. While "Monsters Inc" doesn't surpass the "Toy Story" films as far as ingenuity in the plot goes, it really comes quite close to it! It is of my opinion that "Monsters Inc" is better than "A Bug's Life." *Ducking for the rotten vegetables coming my way.* The graphics have not seemed to make a giant leap of improvement, though I was still quite impressed by it, especially Sully's amazingly life-like fuzz!
The thing to look forward to most (for the adults anyway) is the dialogue. It is full of most-humorous so-called monster puns!
Fans of Pixar will not be disappointed! The story is full of good humor that will make children laugh giddily and constantly make adults smile. And---wow---Monsters Inc is one of the best new movies that I've seen this fall! Highly recommended for children and their adults!
Some film critics have complained that "Monsters Inc" is merely a "Toy Story" clone that offers nothing new to this genre. That is true, but it doesn't matter! Bring on the "Toy Story" clones!
FINAL VERDICT: A
There are no flaws worth noting in Pixar's latest dazzle. Best of all, this delight can be enjoyed equally by every generation in the family. An absolute must-see of Fall 2001!
Movie reviewed by Michael Lawrence
____________________________________________________________________
Voices of:
John Goodman , Billy Crystal, Mary Gibbs, Steve Buscemi, James Coburn, Jennifer Tilly, Rob Petterson, John Ratzenberger, Frank Oz (Yoda! Woohooo!), Daniel Gerson, Steve Susskind, Bonnie Hunt, Jeff Pidgeon, Sam Black
Directed by:
Pete Doctor, David Silverman and Lee Unkrich
____________________________________________________________________
2001 animated/comedy
Rated G.
____________________________________________________________________
Don Ignacio's score: A
All reviews on this site are Copyright (C) 2000 - 2001 by Michael C. Lawrence. All Rights Reserved.