Harry Potter and the Sorcerer's Stone
This ain't no Disney!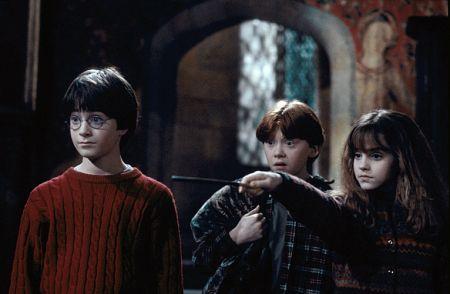 "Look! She just turned Nearly Headless Nick into a newt!"
Okay, the first thing I would like to mention here is that I have read and loved the book. Therefore, I have no idea how somebody will respond to this film who hasn't read it. I am not a die hard fan, however. I finished the book about one week before seeing this!
This story is about an eleven-year-old child named Harry Potter. His parents were killed by an evil wizard while Harry was a little child and the only people that Dumbledore (an extremely important wizard) thought could raise him would be by his surviving family. However, this is a normal non-magical family (magic is something you have to genetically inherit) and they raised Harry up rather cruelly. Harry knows not that he's a wizard until he is visited by a large but very friendly man named Hagrid who tells Harry that he has been accepted into the Hogwarts School of Witchcraft and Wizardry. So Harry, knowing nothing of this magical stuff, attends his first year at this odd school and has an amazing adventure.
I personally had doubts that Chris Columbus could direct this film well knowing that he had directed the most awful film, "The Bicentennial Man." However, what I failed to notice at the time was that he also directed "Home Alone," a highly charming and enjoyable film. He had also done a great job working with child actor Macaulay Culkin. Now I'm thinking, thank goodness for Chris Columbus! The performances from child actors in this film, who are the main characters, are about as perfect as they come! Daniel Radcliffe as Harry Potter, Rupert Grint as Ron Weasley, and Emma Watson as Hermoine Granger are (conceivably) the only people for the job! Robbie Coltrane as Hagrid, Maggie Smith as Professor McGonagall, Richard Harris as Professor Dumbledore, Ian Hart as Professor Quirrell, and ESPECIALLY Alan Rickman as Professor Snape are top notch! I was thrilled to see John Cleese giving a minor but delightful performance as Nearly Headless Nick.
I have found "Harry Potter and the Sorcerer's Stone" to be a magnificent film! The filmmaker's primary objective was to not disappoint the fans and boy did they succeed! There could not have been a better representation of J.K. Rowling's novel. There were no disappointments whatsoever. It isn't too cheesy, it isn't too dark. It isn't too childish, it isn't too mature. The sets are absolutely stunning, the cast is delightful. The special effects are perfect, the story is enchanting and highly exciting. It's appropriately hilarious and appropriately scary. Recommended highly, this is a near perfect family movie. We have a classic on our hands! The running time was a whopping 152 minutes and I couldn't help but to wish that it was longer! A marvelous film!
I recommend that you to read the book before seeing this movie although I'm not sure how much good it would do, but look how much I like it though!
FINAL VERDICT: A+
This film went way beyond my expectations! I thought it would be good --- but not this good! In fact, it's near perfect. A grand and utter delight. A perfect adaptation of J.K. Rowling's incredibly popular novel.
Excuse me while I see it again.
Movie reviewed by Michael Lawrence
____________________________________________________________________
Starring:
David Radcliffe, Rupert Grint, Emma Watson, John Cleese, Robbie Coltrane, Warwick Davis, Richard Griffiths, Richard Harris, Ian Hart, John Hurt, Alan Rickman, Fiona Shaw, Maggie Smith, Julie Walters, Zoe Wanamaker, Tom Felton, Harry Melling, David Bradley, Terence Baylor, Sean Biggerstaff, Richard Bremmer, Alfie Enoch, Simon Fisher-Baker, Joshua Herdman, Matthew Lewis, Devon Murray, Katherine Nicholson, James Phelps, Oliver Phelps, Leslie Phillips, Chris Rankin, Geraldine Somerville, Will Theakston, Verne Troyer, James Waylett, Bonnie Wright, Nina Young, Luke Youngblood
Directed by:
Chris Columbus
____________________________________________________________________
2001 fantasy
Rated PG.
____________________________________________________________________
Don Ignacio's score: A+
All reviews on this site are Copyright (C) 2000 - 2001 by Michael C. Lawrence. All Rights Reserved.