Don Ignacio pays tribute to:
Adam Sandler
(September 9, 1966- )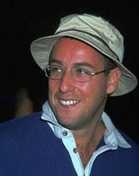 Adam Sandler is a born comedian. He has always been the class clown attending grade school and as a freshman in college he appeared on "The Cosby Show" several times. In 1990, Sandler was hired by Saturday Night Live and he soon became part of the regular cast. In 1991, Adam Sandler debuted in "Shakes the Clown" (1991) and had a co-starring role in Airheads (1994). Then Sandler starred in Billy Madison (1995), Happy Gilmore (1996), The Waterboy (1998) (his best film thus far) and Wedding Singer, the (1998) which thereafter established him as a comedic star, especially among teenagers.
Full filmography:
Going Overboard (1989)
Shakes the Clown (1992)
Mixed Nuts (1994)
Bulletproof (1996)
Happy Gilmore (1996)
The Waterboy (1998)
Dirty Work (1998)
Deuce Bigalow: Male Gigolo (1999)
Little Nicky (2000)
___________________________________________________
Biography by Michael Lawrence
All reviews on this site are Copyright (C) 2000 - 2001 by Michael C. Lawrence. All Rights Reserved.