Don Ignacio pays tribute to:
Tom Hanks
(July 9, 1956- )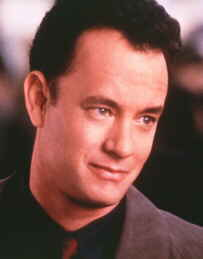 Undoubtedly being one of today's most popular movie stars, Tom Hanks' wide talent in both dramas and comedies is considered one of the best in Hollywood. He first appeared in a low-budget horror flick, He Knows You're Alone (1980) and then went to star with Peter Scolari in the Bosom Buddies, a television show about cross dressing. He thankfully got out of that and made his first successful screen appearance with Spash (1984). He starred in several other films in the 1980's including Volunteers (1985), The Man With One Red Shoe (1985), The Money Pit (1986) and a movie based on the classic police television show, Dragnet (1987) until his next hugely successful hit, Big (1988) directed by Penny Marshall. Four years later, Hanks teamed up with her again in A League of Their Own (1992) . In Tom Hank's extraordinary performance in Philadelphia (1993) and Forrest Gump (1994) , he became the first actor since Spencer Tracy to win back-to-back Oscars. Hanks also supplied the voice of Woody in the immensley popular Toy Story (1995) and then in its sequel Toy Story 2 (1999) . He also had success with his starring roles in Apollo 13 (1995), Steven Spieldberg's Saving Private Ryan (1998), The Green Mile (1999) and Cast Away (2000). He tried his hand at directing in That Thing You Do (1996) and successfully in the acclaimed miniseries From the Earth to the Moon (1998).
Films Starring Tom Hanks on Don Ignacio's Movie Reviews:
Man With One Red Shoe, the (1985)
___________________________________________________
Biography by Michael Lawrence
All reviews on this site are Copyright (C) 2000 - 2001 by Michael C. Lawrence. All Rights Reserved.