Don Ignacio pays tribute to:
Jodie Foster
(November 19, 1962- )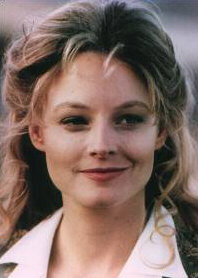 Jodie Foster made her feature film debut in Napolean and Samantha (1972) and immediately achieved childhood star status. She also made a notable appearance in Martin Scorsese's Alice Doesn't Live Here Anymore (1974). Both triumph and tragedy occurred upon the release of Taxi Driver (1976); it was a role in an extremely successful film which further advanced her carreer as an actress, but it unfortunately triggered an obsession from John Hinckley Jr. who stalked her and apparently attempted to assassinate President Ronald Regan "just to impress her." After that fiasco, she received negative press from the media and tabloids and she temporarily withdrew from serious acting until the release of The Accused (1988) and won an Academy Award for Best Actress. She repeated her success with the release of the critically acclaimed Silence of the Lambs, the (1991) and won another Best Actress award. Shortly after, Jodie Foster tried her hand at directing with Little Man Tate (1991) with success. Later, she starred and produced Nell (1994) and tried something new: a comedy with Maverick (1994).
Full filmography:
Silence of the Lambs, the (1991)
___________________________________________________
Biography by Michael Lawrence
All reviews on this site are Copyright (C) 2000 - 2001 by Michael C. Lawrence. All Rights Reserved.