Don Ignacio pays tribute to:
Richard Dreyfuss
(October 29, 1947- )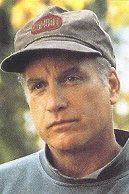 Richard Dreyfuss is one of today's most famous and charasmatic leading men playing in both comedies and dramas with applauded results. Richard Dreyfuss first appeared briefly in The Graduate (1967) but had his first major role in the George Lucas film American Graffiti (1973). After starring in the successful comedies The Apprenticeship of Duddy Kravitz (1974), The Goodbye Girl (1977) where he became the youngest person ever to receive the Best Actor Academy Award, and two extremely popular Steven Spielberg directed films, Jaws (1975) and Close Encounters of the Third Kind (1977), Richard Dreyfuss became an established celebrity. Some of Dreyfuss's later films includes The Big Fix (1978), Down and Out in Beverly Hills (1986), Stakeout (1987), Once Around (1991), What About Bob? (1991), and Lost in Yonkers (1993). In 1996, Dreyfuss was nominated for an Academy Award for his excellent performance in Mr. Holland's Opus.
Full filmography:
Close Encounters of the Third Kind (1977)
Rosencrantz and Guildenstern Are Dead (1990)
American President, the (1995)
___________________________________________________
Biography by Michael Lawrence
All reviews on this site are Copyright (C) 2000 - 2001 by Michael C. Lawrence. All Rights Reserved.