Don Ignacio pays tribute to:
Robert De Niro
(August 17, 1943- )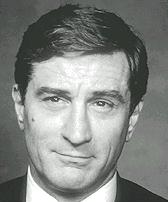 One of today's most sought-after movie star, Robert De Niro started his acting career appearing in off-Broadway plays as early as 10 years of age. His movie debut came in 1965 when he appeared as an extra in Trois Chambres a Manhattan. His first small speaking role came in 1966 when he appeared in The Wedding Party. De Niro's first leading role also came that year when he starred in Greetings (1968). His next two major roles were in the films Sam's Song (1969) and Hi, Mom (1970), but unfortunately for De Niro, his performance in these films didn't gain him much critical acclaim. However, when he starred in Bang the Drum Slowly (1973), his performance earned him a Best Supporting Actor award by the New York Film Critics Circle. After that, De Niro's career really shot off! His first of many teamings with Martin Scorsese started with Mean Streets (1973) and later going on to make such wonderful films as Taxi Driver (1976), New York, New York (1977), Raging Bull (1980), The King of Comedy (1983), The Goodfellas (1990), Cape Fear (1991), and Casino (1995). In 1974, De Niro won the Best Supporting Actor Academy Award for his performance in the incredibly popular The Godfather Part II (1974). In 1976, De Niro was nominated for the Best Actor Academy Award for Taxi Driver, then he was nominated again in 1978 for his performance in The Deer Huter, and he finally won the Academy Award in 1980 for Raging Bull. Later, he was nominated again for his performances in Awakenings (1990) and Cape Fear (1991). Some other of De Niro's significant films include The Last Tycoon (1976), True Confessions (1981), Once Upon a Time in America (1984), Brazil (1985), The Untouchables (1989), Midnight Run (1988), Heat (1995), Jackie Brown (1997), Wag the Dog (1997), Analyse This (1999), Meet the Parents (2000) and 15 Minutes (2001). The first and only time De Niro tried his hand at directing was with the 1993 film, A Bronx Tale.
Films starring Robert De Niro on Don Ignacio's Movie Reviews:
___________________________________________________
Biography by Michael Lawrence
All reviews on this site are Copyright (C) 2000 - 2001 by Michael C. Lawrence. All Rights Reserved.